Differential Equations and Linear Algebra
Undergraduate Mathematics
Science and Engineering
August 2022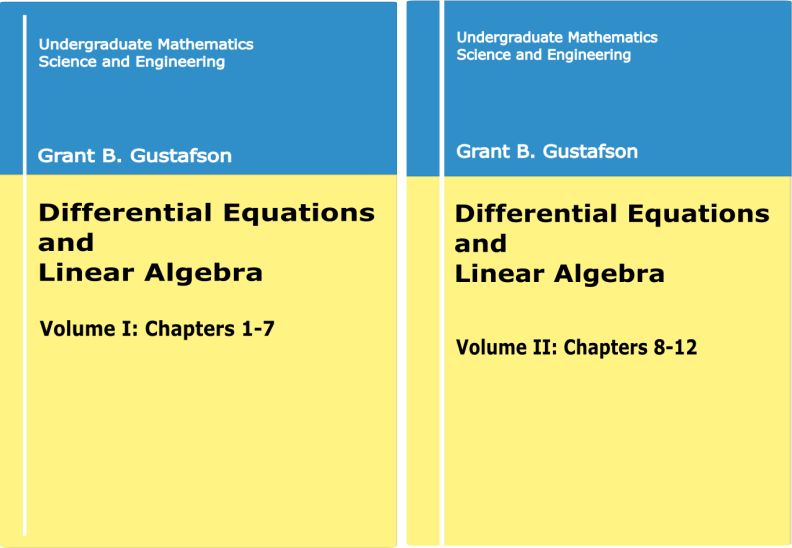 ---
Free to Use
Files are located at Utah. There are no restrictions for personal and educational use.
No Internet
A PDF file downloaded to a local folder can be opened without internet using a PDF viewer like Adobe Reader or Evince. These viewers support a left outline panel (bookmarks) and hyperlink navigation. Browsers Chrome and FireFox have integral PDF viewers which mimic Adobe Reader. Smart phone PDF viewers, file managers and browsers have fewer features but are useable in landscape mode.
Navigation
The PDF is 7x10 inch format, the same as the Amazon paperbacks. Tablets and laptops are expected for viewing and navigation. Landscape mode on large screen Apple and Android smart phones works well enough to be useful. Hyperlink found in textbook exercises links to the solution manual. Hyperlink found in the solution manual links back to the textbook exercises. The Table of Contents and the Index have blue hyperlinks to the text. Within the PDF there are blue hyperlinks to equations, theorems, figures, definitions and examples.
---



PDF textbook and exercise solutions

deBookAndSolutionsGG.pdf (13MB)

Download this PDF to local file storage for use on a computer, laptop, tablet or smart phone. To use the downloaded PDF with no internet, open the local file with a PDF viewer, Web browser or file manager.
---



PDF textbook only, no solutions

deBookGG.pdf (9MB)


PDF solution manual only, no textbook

deSolutionsGG.pdf (6MB)

The two PDF files are provided primarily for single-sided printing. External hyperlinks in the solutions PDF use internet: clicking an external link loads a Chapter file from Utah in the Web browser. The book PDF has a few external links to internet Web sites but no external links to the solutions PDF.
---
Chapter PDF files

(0.5 MB to 2.2 MB)