Julie Sherman: Adventures in the Canadian Arctic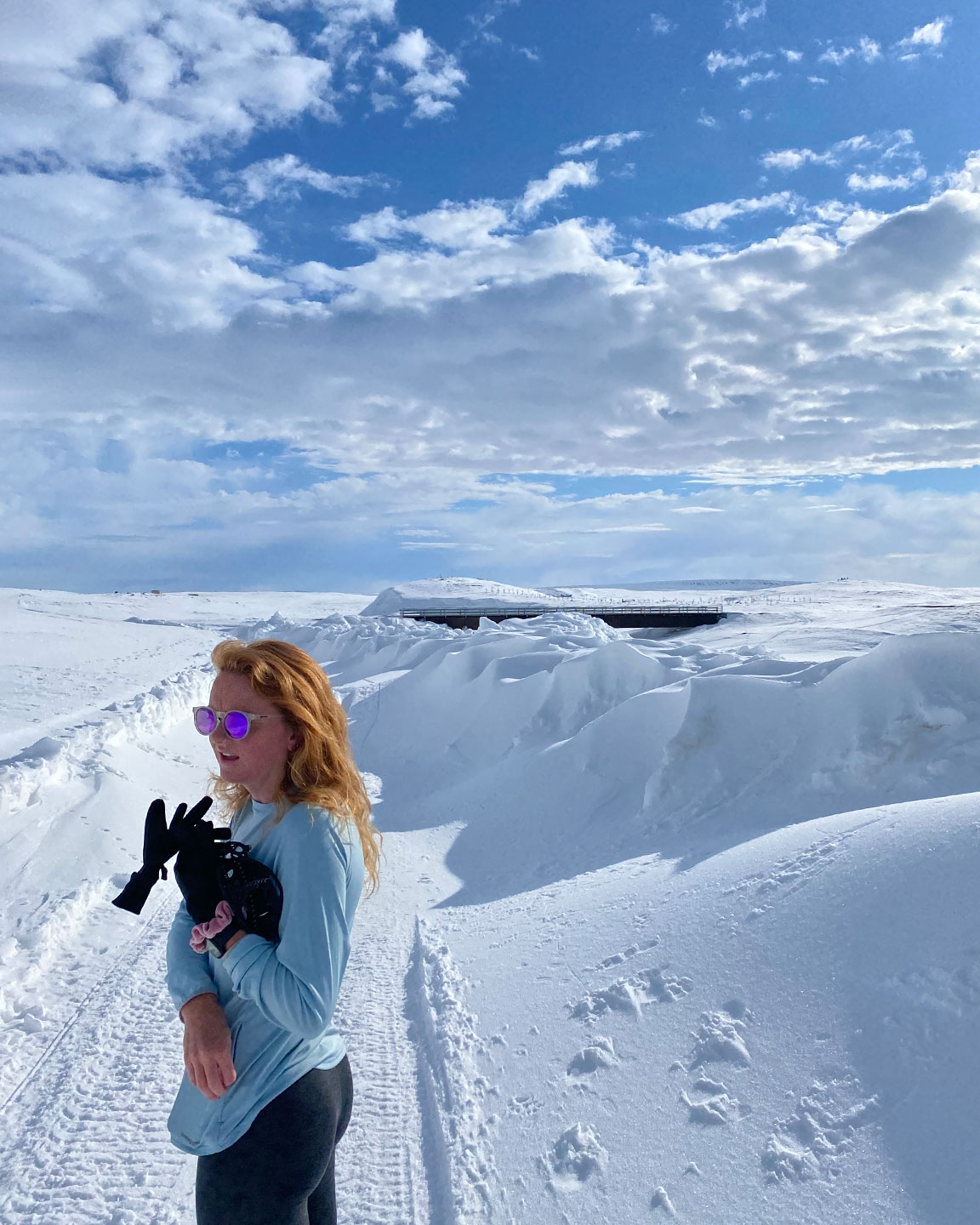 Julie Sherman - Photo credit: Rebecca Hardenbrook
Julie Sherman and Rebecca Hardenbrook, both graduate students in the Math Department, participated in the Biogeochemical Exchange Process at Sea Ice Interfaces (BEPSII) Sea Ice School May 14-23, 2022, at the Canadian High Arctic Research Station (CHARS) in Cambridge Bay, Canada.
The purpose of the BEPSII program is to provide early-career polar researchers an opportunity to learn field work methods for understanding and analyzing polar sea ice firsthand, as well as building a community in the sea ice research world. Competition for acceptance in the program is competitive—nearly 100 applications were received for 30 spots.
Recently, the Math Department asked Sherman about her adventures in the Canadian High Arctic.
How did you become interested in sea ice research?
I wanted to study how math can be applied to climate as soon as I began my studies as an undergraduate at the University of Minnesota. I became interested in sea ice after meeting with Ken Golden, Distinguished Professor of Mathematics. He had been a part of the NSF's Mathematics and Climate Research Network that I was also involved in. Dr. Golden's projects are interesting, and definitely relevant to my interests in climate change.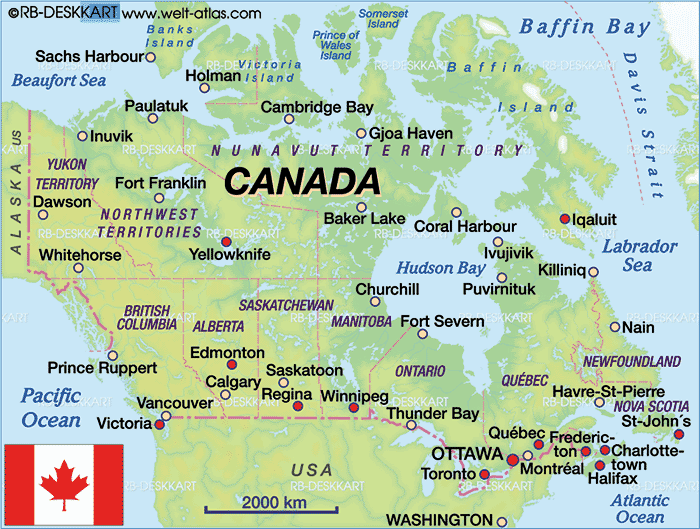 How did you travel to Cambridge Bay?
We had four flights total. First a flight from Salt Lake City to Seattle and then to Edmonton, Alberta. We spent the night in Edmonton because there is only one fight a day to Cambridge Bay. The next day we flew out, had a short stop to Yellowknife, and then to Cambridge Bay.
What was it like meeting the other fellow scientists and colleagues?
It was amazing to meet all these people. It seemed like a really friendly community. A few were working on a concurrent field project, so they didn't end up coming to much of the school. Also, there was a COVID outbreak among the group, so many had to quarantine. Before the COVID, there was tons of energy and ideas for collaboration. Everyone was really cool! I'm really happy to have made these connections.
What was a typical day like?
We would wake up around 8 a.m., with breakfast in our flat—the groceries were provided by the staff. Lectures would start at 9 and last until noon. There were usually two different lectures, with several short breaks in between. Lunch was served at 12:30 p.m., followed by hands-on activities around 2 p.m. Some days it was field work and other days lab work or modeling. Our last day was group work. The work continued until 6 p.m. At 7, we had dinner, followed by free time. Some would watch hockey—one night we did a pub quiz, or sometimes we might all watch movies together.
We did go into the town of Cambridge Bay—the folks were friendly, and they invited us to some of their summer festivities—called frolicks. These were activities like snowmobile races, music, and dancing. Unfortunately, because of the COVID outbreak, we couldn't attend any of them but the culture of the town seemed pretty fascinating.

What kinds of research/field work did you do?

It was mostly learning the basics, such as how to drill holes in sea ice and process the cores for temperature and salinity profiles. We also learned how to take snow measurements, make sack holes for brine measurements, and take light measurements, etc.
What were your living quarters like? What about your meals?
We lived in flats with four rooms, each with bunk beds, two bathrooms, and a shared kitchen. The flats seemed new and simple, but they were very nice. Meals were catered, and the food was surprisingly good and diverse! I didn't expect much given that it's nearly impossible to grow food that far north, but there were fresh fruits and veggies. Each meal came with dessert, so that was nice, too. I'm sure it was expensive—someone said that a watermelon cost $75!
Sherman doing research with colleagues - Photo credit: Rebecca Hardenbrook
What did you enjoy most about the experience? What was the environment like?
The most enjoyable part was meeting and talking to other graduate students in the field. Everyone was so kind and really interesting! I'm excited to work more with them. The environment was definitely cold, pretty barren, everything still covered in snow. The first couple of days it was sunny and warm (like 30F!), so that was a nice treat. One of the coolest things was watching the sun not set. A few nights I stayed up late and became obsessed with watching it never go down. I'd go out every 30 minutes and watch it travel across the sky, but it never set. Of course, the sun would dip down to the horizon, but it wouldn't cross it, so it was like a continuous sunset from 10:30 p.m. to 2 a.m. We saw Arctic hares and arctic foxes, and they were practically the same size—a huge hare and a small fox. There were plenty of birds, but no plants growing—just some lichen on rocks.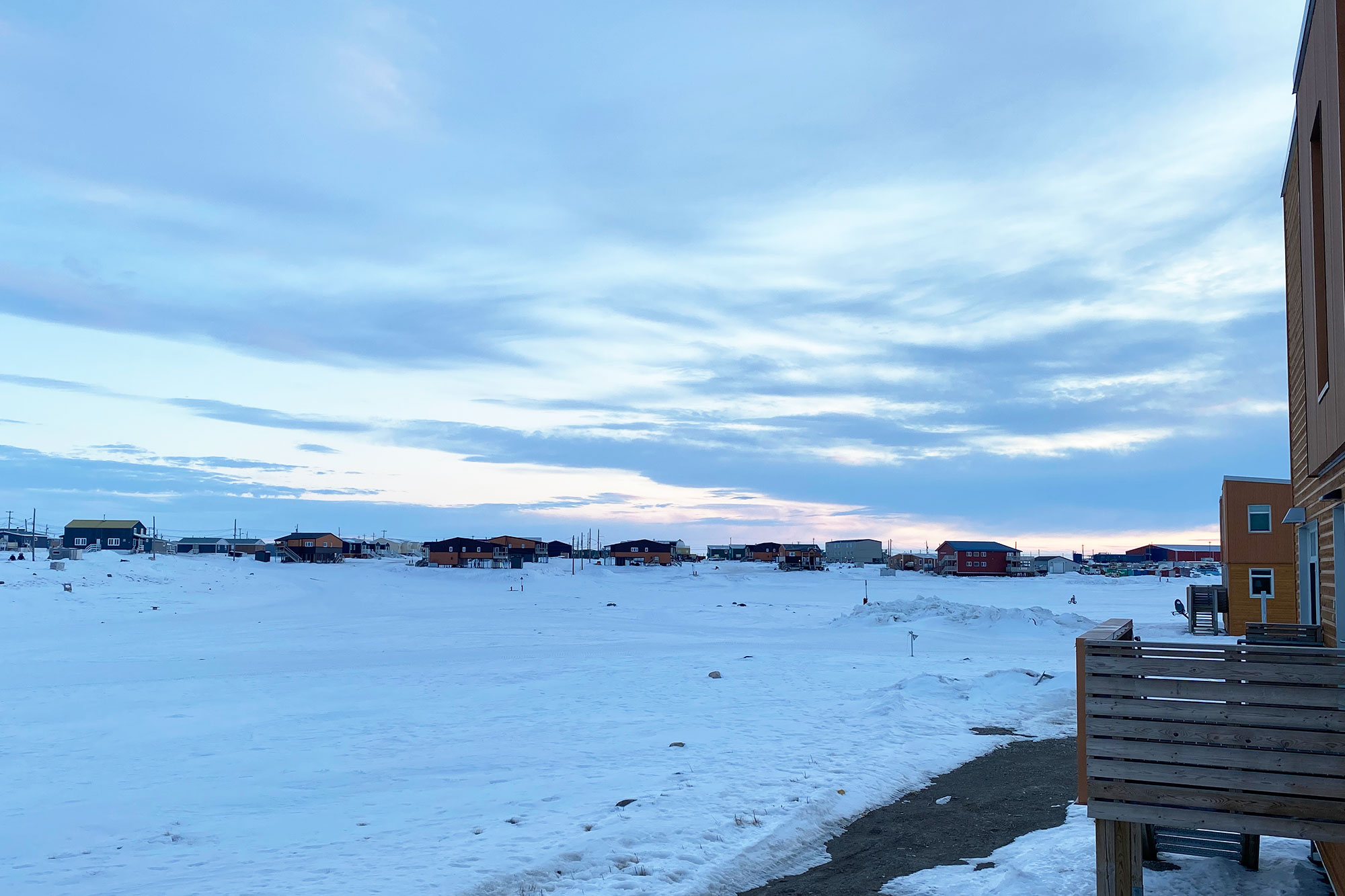 Endless sunset at Cambridge Bay--photo taken about 11 p.m. - Photo credit: Rebecca Hardenbrook
What are your plans after you receive your Ph.D.?
I hope to stay in academia studying math as it applies to climate.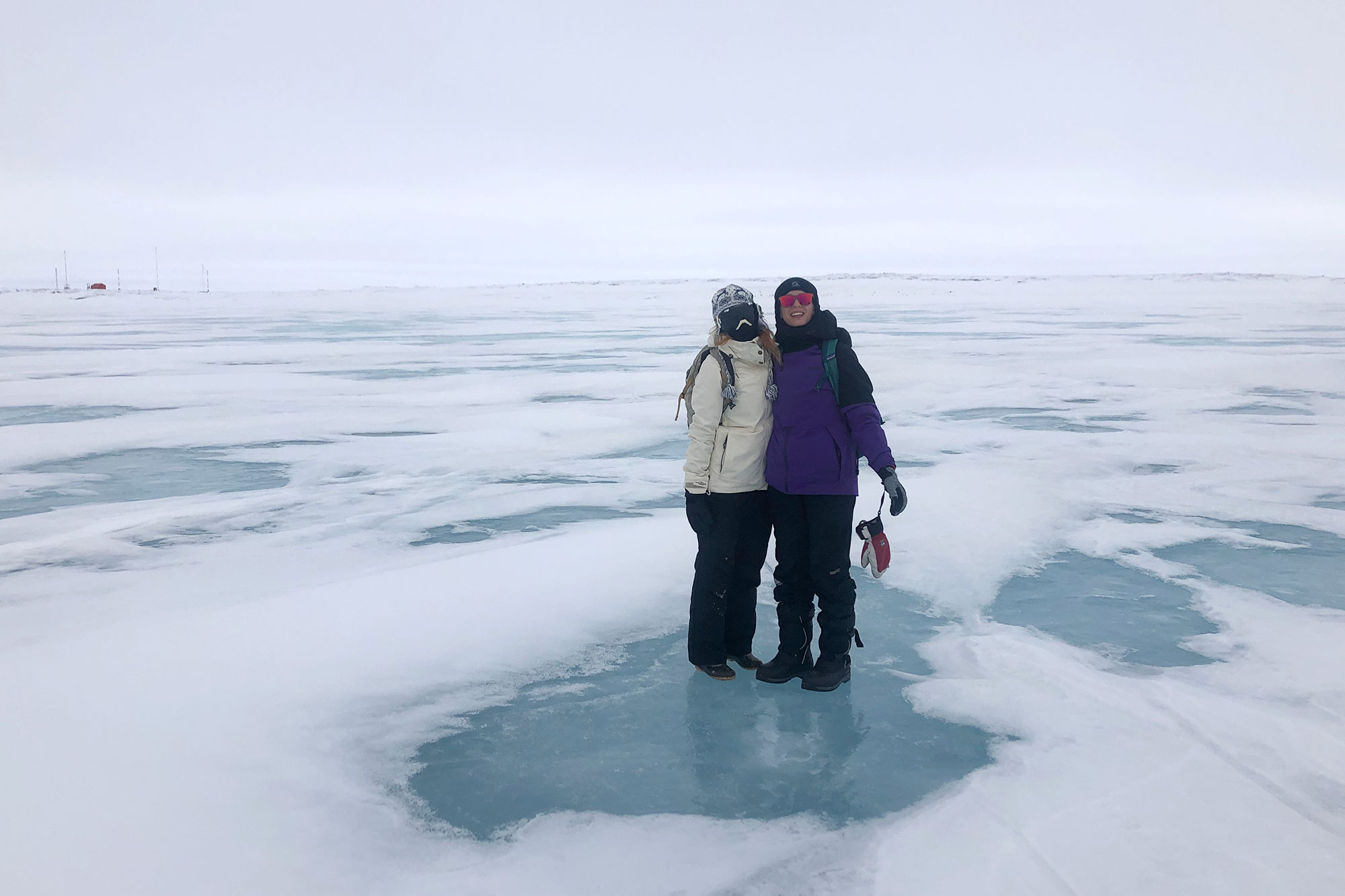 Julie Sherman and Rebecca Hardenbrook