In Memoriam: Professor Emeritus William J. Coles
1929 - 2020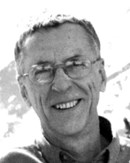 Professor Emeritus William J. Coles passed away Sunday, February 16, 2020, at the age of 90, surrounded by his wife, children, and granddaughters, after a long decline into vascular dementia. He was known for his radiant presence, integrity, compassion, and kindness.
He was born October 31, 1929, in Marquette, Mich. He received a Ph.D. in Mathematics from Duke University in 1954 and joined the University of Utah as assistant professor in 1956. He became a professor in 1964 and taught in the Math Department for 45 years until he retired in 2001.
He was a brilliant mathematician and exercised his pedagogical impulses for decades. His research significantly advanced the understanding of the oscillatory properties of solutions to ordinary differential equations. He played a strong role in helping transform the department from average standing to a Group I research department.
He enjoyed hiking, canoeing, whitewater rafting, and hunting--in later years without a gun--using only binoculars. He was known for his abilities as a marksman and superb tracker. He could smell deer sheltering nearby, and he taught his wife, Joan, to see birds and animals in the wild.
Bill was a gifted musician with the banjo and mandolin, and he loved to sing and play with his family and friends.
The hardest thing, especially for Joan, was to see Bill lose his brilliant mind. Despite the difficulties of the last few years, Bill retained his wit and charm to the end, expressing himself through facial expressions after language failed him.
In addition to his wife and children, Jeffrey, Katharine, and Peter, he is survived by his granddaughters Alexandra Coles (Cody Stephens) and Lauren Coles, step-granddaughter Jennifer Condliffe, daughter-in-law Jeri Coles, and son-in-law Chris Johnson.
Friends will be notified about a party to celebrate Bill's life at a later date. In lieu of flowers, please donate in Bill's name to the Nature Conservancy or the charity of your choice.
If you would like to make a donation to the Math Department in memory of Bill, click here.
You can read his full obituary here.