Graeme Milton


Distinguished Professor
Department of Mathematics
University of Utah
155 S 1400 E RM 233
Salt Lake City, Utah 84112


Office: JWB 310
Office hours and Schedule
Office phone: (801)581-6495
Phone messages: (801)581-6851
Fax: (801)581-4148

E-mail: milton@math.utah.edu

New book with four chapters coauthored with M.Cassier, O.Mattei, M. Milgrom, and A.Welters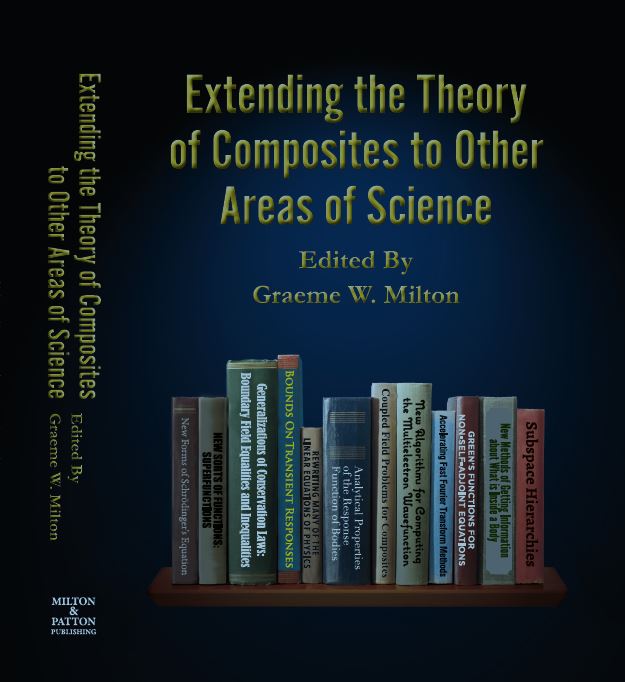 Only $80! Available here: Extending the Theory of Composites to Other Areas of Science

Our work on ideal climbing ropes (also available on ArXiv ) made it to the front cover of climbing magazine . Direct link here . A once in a lifetime achievement!
See also the news release of Lee Siegel

See the news release by Paul Gabrielsen describing our work on analytic materials, New math tools for new materials , and the accompanying paper also available on ArXiv

See below some of the many articles related to our work on cloaking. It could be that our 2006 paper On the cloaking effects associated with anomalous localized resonance (submitted in October 2005) was the first to introduce the word "cloaking" into the scientific literature, outside computer science. With 12,815 downloads our paper Quasistatic cloaking of two-dimensional polarizable discrete systems by anomalous resonance was the most downloaded paper in 2007 amongst all 12 journals of the Optical Society of America.

See the articles below related to pentamode materials a new type of material that we devised in the 1995 paper Which Elasticity Tensors are Realizable? also available here

Vita updated in September 2016
Summary of Some Major Accomplishments

Translation, thanks to my Russian friends, of Dolin's 1961 Paper, that marks the birth of Transformation Optics
To the possibility of comparison of three-dimensional electromagnetic systems with nonuniform anisotropic filling