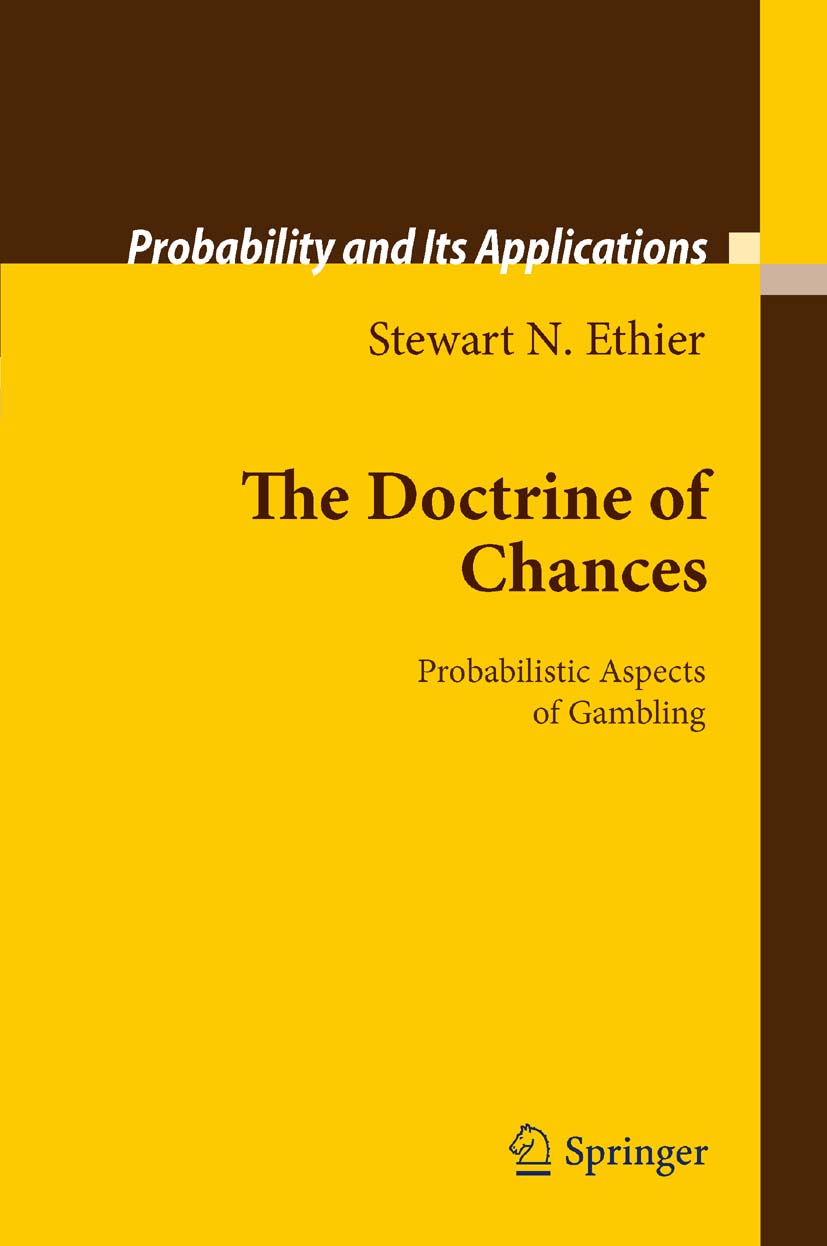 The Doctrine of Chances: Probabilistic Aspects of Gambling by Stewart N. Ethier.
Published by Springer, May 27, 2010.
Published online at SpringerLink, May 19, 2010.
Back-cover text: "Three centuries ago Montmort and De Moivre published two of the first books on probability theory, then called the doctrine of chances, emphasizing its most important application at that time, games of chance. This book, on the probabilistic aspects of gambling, is a modern version of those classics. While covering the classical material such as house advantage and gambler's ruin, it also takes up such 20th-century topics as martingales, Markov chains, game theory, bold play, and optimal proportional play. In addition there is extensive coverage of specific casino games such as roulette, craps, video poker, baccarat, and twenty-one."
Download frontmatter (includes Preface, Contents, List of Notation). [pdf, xiv pages]
Download sample chapter (Chapter 17, Video Poker). [pdf, 29 pages]
Download backmatter (includes Appendix, Bibliography, Index). [pdf, 72 pages]
Download Answers to Selected Problems (not included in the book). [pdf, 55 pages] (Updated Nov. 13, 2012)
Download errata list. [pdf, 1 page] (Updated Feb. 24, 2013)
Order at amazon.com (US), barnesandnoble.com (US), amazon.ca (Canada), amazon.co.uk (UK), amazon.fr (France), amazon.de (Germany), amazon.co.jp (Japan).
View this page in Polish, courtesy of Blog für die Wissenschaft.
View this page in Slovakian, courtesy of Knowledge Team.
View this page in Bosnian, courtesy of Science All Team.
View this page in Ukrainian, courtesy of Anna Litwinka.
View this page in Slovenian, courtesy of Katarina Hornik.
View this page in Russian, courtesy of Art of Science.
View this page in Czech, courtesy of Sophi Spacilova.
View this page in Spanish, courtesy of Science Team.
View this page in Hungarian, courtesy of Anabella Frankovicova.
View this page in Greek, courtesy of Nikolaos Zinas.
View this page in Indonesian, courtesy of ChameleonJohn.
View this page in Irish, courtesy of Travel-Ticker.com.
View this page in Portuguese, courtesy of homeyou.com.
View this page in Belarussian, courtesy of BestReviewsBase.com.
View this page in Bashkir, courtesy of Ayrat Israfilov.
View this page in Chinese, courtesy of Down To Five.