Perpendicular Lines
Two lines with slopes

and

are perpendicular if

or, equivalently, This makes sense: if one line goes up the other goes down (since their slopes have opposite signs), and if one line is shallow the other is steep.

The following Figure explains why the slopes are related in this way: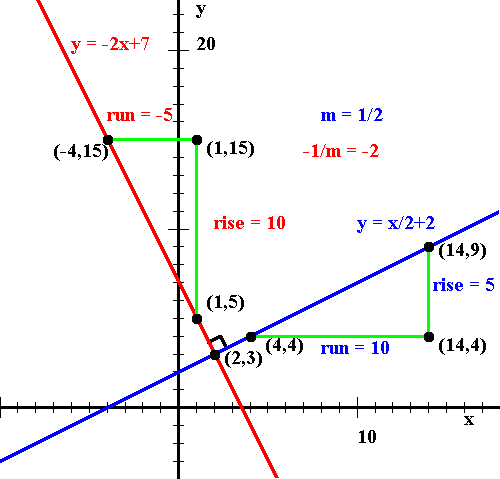 It shows two perpendicular lines with slopes 1/2 (shown in blue) and -2 (shown in red), intersecting in the point (2,3). The two green triangles are congruent, and the one associated with the red line can be obtained by rotating by 90 degrees the other triangle associated with the blue line. If you think of subtracting the coordinates of the point close to the intersection from those of the point far away, that rotation turns the original run into the new rise, and the original rise into the negative of the new run, as illustrated in the Figure. You can also think of subtracting the coordinates of the leftmost point from those of the rightmost, in which case the rise is multiplied with negative 1 and the run maintains its sign, without affecting the sign of the slope.