Solving Radical Equations
An equation involving radicals is called a radical equation (naturally). To solve it you simply apply our general principle:
To solve an equation figure out what bothers you and then do the same thing on both sides of the equation to get rid of it.
To get rid of a radical you take it to a power that will change the rational exponent to a natural number. This will work if the radical is on one side of the equation by itself.
Let's look at a few simple examples:
Suppose

We proceed as follows:

Here is a slightly more complicated problem:

We obtain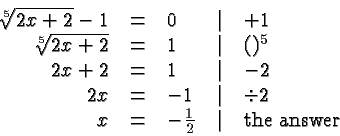 Our last example shows how to get rid of more than one radical:

To get rid of the square roots we isolate them and square one at a time: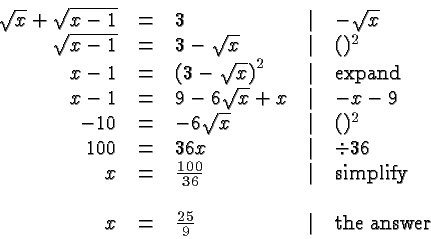 In each case, we check our answer by substituting it in the original equation. For example, in the last equation we obtain:

Later in the course we will consider more complicated cases of radical equations.
Numerical Values
The radicals in the above examples were all natural numbers. This is due only to a judicious choice of examples. Frequently the roots occurring in applications are irrational numbers with decimal expansions that never repeat or terminate. The following table lists approximations of a few specific radicals.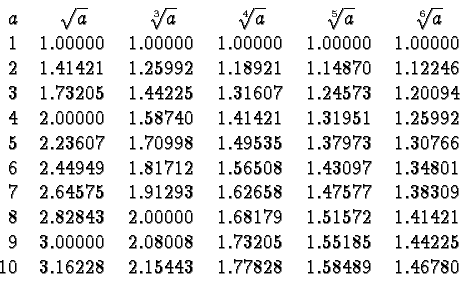 Some Radicals (Approximately)