Mathematics 7710-1.
Part 1. Homogenization
---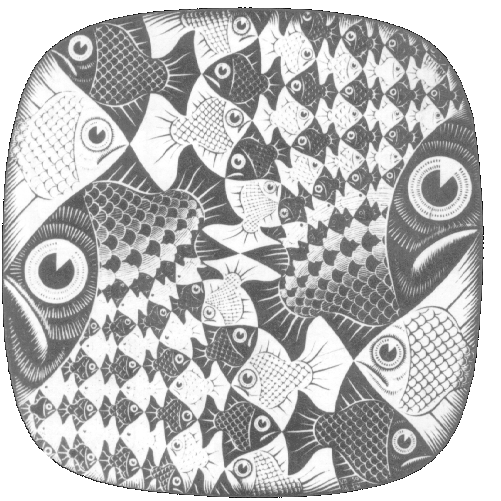 Fishes (by Esher)
=>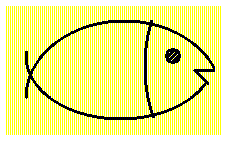 "Homogenized" Fishes
To Andrej Cherkaev homepage
---
Text:
Andrej Cherkaev. Variational methods for structural optimization. Springer, 2000.
The covered topics
---
I semester
Introduction:
One dimensional homogenization.

Canonical form, averaging.
Examples. effective conductivity, speed of sound, etc.
Vibrology: constructions under vibrations. Averaged equations. Examples. Vibro-viscosity, granular media.

Introduction to optimal control

Control theory: variables, controls, functionals. Examples.
Canonical form and Pontriagin's maximum principle.
Chattering control and averaging in the optimal systems.
Homogenization.
Equations

Inhomogeneous conducting medium.
Elasticity equations.

Homogenization technique

Asymptotic expansion: Effective coefficients.
Correctors.
Examples: laminates.
Homogenization and the boundary conditions.

Effective properties and microstructures.

Homogenization and Gamma- and G-convergence.
G-closures. Topological properties.

Exact solutions

Checker board structure, 2d polycrystal.
Laminates of high rank.
Algebra of laminates from contrast materials.
Optimization of conducting structures
Optimization of the conducting structures

Wiener bounds or effective properties.
Minimal energy. Relaxation and homogenization
Necessary conditions of Weierstrass type.
Example: an annulus of optimal conductivity.
Multi-material design.
Lower weakly semi-continuous functionals. Structure of solutions.
Examples. How to turn the current away from the field? The thermal lense.

Optimal caverns in an elastic plane

Optimal cavern in hydrostatic field. Periodic array.
Optimal cavern in the shear field field. Collective effect.
---
Text for I semester:
A. Cherkaev. Variational Methods for Structural Optimization. Springer, 2000.
Notes
The reference books:
A. Bensoussan, J.-L.Lions, G. Papanicolaou. Asymptotic Analyssis for Periodic Structures. North Holland, 1978.
V.V.Jikov, S.M.Kozlov, O.A.Olejnik. Homogenization of differential operators and integral functionals Springer, 1991
Announcement and the preliminary plan for the entire course

Optimization and Homogenization

are placed on www.math.utah.edu/~cherk/teach/7710.htm