Hyperbolas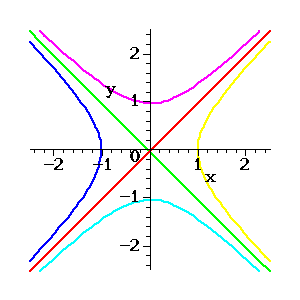 Figure 2. Two Hyperbolas and their Asymptotes
Consider again the equation

of the unit circle. If we replace addition by subtraction we obtain the equations

or

Each of these these equations describes a hyperbola. A hyperbola has two branches. In Figure 2, the yellow and blue curves form the graph of

the purple and turquoise curves form the graph of

. Also shown are the lines

(red) and

(green) which are the asymptotes of the hyperbolas. The graphs of the hyperbolas approach these lines arbitrarily closely without ever reaching them.

Like other graphs, hyperbolas can be scaled and translated.
Conic Sections
The discussion on this page is a very brief introduction to a much larger and richer subject: the study of conic sections. A conic section is the intersection of a plane and a cone. Such curves can be expressed as the graphs of the general quadratic equation

where

are constants. Conic sections include ellipses, parabolas, hyperbolas, pairs of intersecting lines, and single points. Their detailed study is intricate, fruitful, and fascinating, but beyond the scope of this class.