Next:
Hidden length!
Up:
``Strange'' limits
Previous:
Distributions and weak limits:

Limit of an infinitely fast wiggling curve
The limiting infinitely fast wiggling curve



is not a function either: Although the range of its values is

, one cannot compute its value

for any specific

except

.

In addition, its average over any interval is zero, and its weak limit (see the discussion of the term in 4.3.2) is zero:

However, some moments of

are nonzero. The second moment is:



Similarly, higher even moments are non-zero: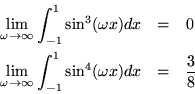 and so on.



---
Andre Cherkaev
2001-11-16